The proud owners of Siaera are delighted to announce the safe arrival of 6 gorgeous schnoodle 'fur babies' puppies.  Four of the pups who arrived this morning, 24 February 2014, are female and 2 are boys.  Mum, Siaera is pictured curled up feeding her new brood.  The pups are honeycomb, golden shade colours and are truly beautiful.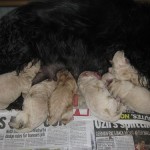 Breeder Karen is delighted with the new arrivals and already 3 of the 6 are spoken for.  The pups will be raised in a home environment and Karen's dogs are all family pets and very much loved and cared for. Karen owns both the Mum and Dad (stud) dogs.  Paddington is the father of the pups and he is a handsome red poodle.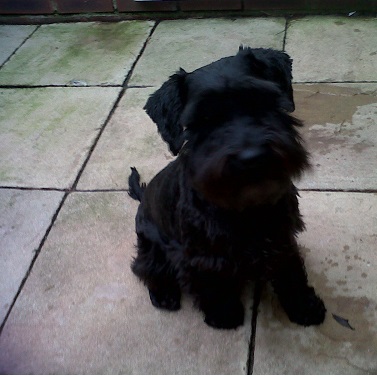 If one of these pups is for you don't delay in getting in touch with Karen. Genuine enquiries only, no time-wasters.  Puppies to good homes only.
If one of these puppies is the dog for you contact Karen on 07517 195604 
Please note: I am not associated with the breeder and will make no financial gain from featuring these pups.  As always, iLoveSchnoodles.com would highly recommend that you choose a breeder and pup carefully.