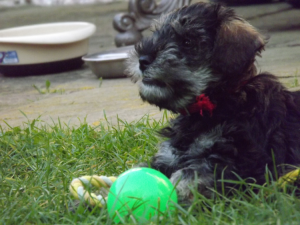 Guest Post by Ian Davies
As a rather reluctant owner of a new puppy, I travelled with my wife Lesley, son Jonathan, and his girlfriend Jordan, to Southend-on-Sea from  Milton Keynes to collect Jasper, our 8 week old Schnoodle.
Jonathan and Lesley have been keen for a new edition to the family for a long time, and the pressure on me to say 'yes' has grown.
I am a dog lover. There is no doubt about that. Having had dogs  throughout my youth, I have always enjoyed their company, the endless  fun, the long walks and true companionship no other animal can ever  give. However, now in my 50s, I have responsibilities I didn't have back then and, whilst the excitement and joy of buying a puppy is a  wonderful experience, there are a lot of factors to consider.
The practicalities of owning a puppy can be a challenge: someone has to  be around during the day to take care of the puppy (who all-too-quickly  becomes a full-grown dog), what do you do when you go away on holiday?,  what about damage to the home?, vet's bills for basic 'maintenance' can  be very expensive and so on. The list of negatives is quite long.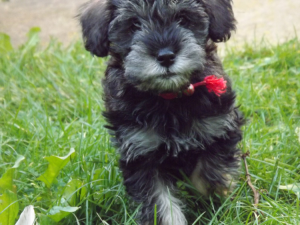 Having finally been 'won over' by the family, we had originally  chosen our puppy 'Jasper' 10 days or so earlier when we first visited  the breeder. Jonathan made the final choice and it wasn't an easy one.  Jasper was one of a litter of seven. Five boys and two girls. Two of the boys had already been sold, so that narrowed the choice a little,  though it took a long time to decide whether we would have a boy or a  girl. The two girls were relatively quiet and clearly enjoyed a cuddle  and some 'loving', whilst the three boys were also very friendly they  enjoyed some 'rough and tumble' too. All five had wonderful  characteristics and I'm sure we would have been delighted to take any  one of them home. However, after much deliberation, Jonathan decided on a boy and he liked the quietest of the three, Jasper.
As the 10 days were gradually ticked off the calendar the biggest  consideration was what to name the puppy. Should we stick with Jasper?  Several other names were suggested, including Charlie, Lewie, Maurice  (if you've ever seen the film Madagascar you'll understand), Dixon and  more. The debate only ended when we collected Jasper. He 'was' a Jasper, so Jasper it is.
On the day of collection only two other puppies remained, and although we had visited just once before, it did seem a little strange that there  were so few puppies there to greet us. After half an hour or so and all  of the formailities concluded, it was time for Jasper to join his new  family. We said our goodbyes to breeder Cathy and her daughter Kayleigh  (who must find it quite tough to lose their 'babies') and off we went.
After a brief stop in Southend (doughnuts are fanastic on the sea front) we headed back to Milton Keynes.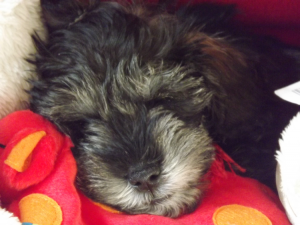 Jasper was absolutely brilliant during the  hour and three-quarters journey. He was very comfortable on Jonathan's knee and hardly murmured, which surprised me. I thought he would show some obvious signs of stress, but he appeared to be fine.
After a lengthy photo shoot in the back garden and lots of new toys to play with, Jasper had something to eat and then settled down in his new bed. He slept for a couple of hours before some serious play time.
Jasper has been with us a week now. He has settled in very well and we've already had a lot of fun. The funniest moment so far was when he caught sight of himself in a full length mirror. He did not like the idea of another puppy in the house at all! He wasn't sure whether to see off his rival or run away, so he did a bit of both.
It hasn't all been fun. Jasper is keen to nibble at anything. He particularly likes fingers and his teeth are very sharp. We've had a few toilet issues too, but that's only to be expected.
I have quickly become 'dad' and it's interesting to note that when Jasper is feeling sleepy he looks for me, rather than anyone else, and particularly likes to lay across my feet. If I'm not around, my slippers act as a comforting substitute.